Petline Veteriner Kliniğimiz
Welcome to the Healthy & Happy World of Pets…
Your One Stop Pet Care Centre & Pet Hotel in North Cyprus
PETLINE CLINIC, KYRENIA TOWN, ÇATALKÖY
About Pet Line Clinic
We had the chance to meet the Director of Petline Veterinary Clinic and Pet Hotel owner, Niyazi Çelebi. He explains to us a little bit about what they do, and why. Loving pets is rewarding and time consuming, it holds full time responsibilities, but as all caring pet owners know; it's well worth it!
Dr. Niyazi explains how their caring services at Petline carve and fill a huge void in the contribution to the growing population of expats moving here with their pets from all over the globe, or those taking on a pet on the island.
Niyazi Çelebi studied and graduated from the University of Ankara with honours in Specialist Veterinary Surgeon. He then extended his studies with a two year term studying animal feeding, dietary and food nutrition. Dr. Niyazi has an accomplished veneer and expertise, which fortunately, extends to his pets and his charity work in the animal kingdom covering the whole of North Cyprus.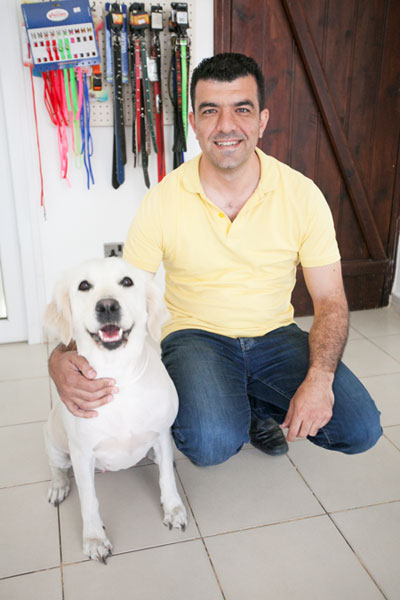 Dr.Niyazi Çelebi
Director of Petline Veterinary Clinic and Pet Hotel owner
A very pleasant Veterinary Surgeon greets us, dressed in a smart white medical overcoat, and gives us a smile warm enough to making us feel very welcome. We ask, over a beverage, for the story and a little bit about how he began, what they do and services available. He begins: "I started this company with the objective to aid animals. I knew the marketplace lacked the professionalism and services vital to this industry. With my passion for animals and urge to fill the void, I launched Petline in 2011."
"I started by opening up as a small shop some 200 metres from where we are today. The demand was apparent as we expanded fast and moved to our current facilities. The idea blossomed, as did our team, so to include a Pet Hotel and Pet Transfer Services became an immediate hit. The pet hotel was in high demand and we conveniently placed it a few minutes drive from Ercan airport. Today it plays a vital role to customers going on holiday and those wanting to bring a pet safely to and from Cyprus." He continues: "Transfers are mainly from Europe, USA, Russia, Iran and of course Scandinavia, but we work worldwide. Approximately 70% of my customers are foreign based."
Petline Clinic has a working relationship with the animal charity KAR (Kyrenia Animal Rescue). He tells us: "We take on many street dogs and cats that are brought in by charities, make the necessary treatments and keep them here until full recovery, then we send them back to the charity that will find them a home. We have a significant quantity of dogs on our streets, but at least we and a few more pet clinics contribute by neutering the animals to stop them from spreading and assist with the safety and comfort. It is mostly dogs and cats we take care of here but sometimes we take care of farm animals such as sheep. We also get the odd house rabbit, pigeon, chameleon and sometimes a parrot or two.
GROOMING
Bathing, clipping, gland extraction, nail trimming, etc. Everything for the beauty and health of your pet.
PET SHOP GOODS
Food, medications, parasite treatments, toys, collars, bowls, baskets, travel cages, pet nutrition, vitamins, pet blankets, coats, plus man more accessories.
BRIT PETFOODS
Petline only sells the best pet food brands to make sure your pets are healthy and happy. The volume in stock means they are able to offer competitive prices.
From August 30, you can choose and compare prices online! Don't forget to login to the new website on August 30.
PET TRANSFERS
Pet transfers to and from Cyprus worldwide. Common destinations include America, Iran, Russia, and the Scandinavian countries. Petline prepares all the documents and make the needed vaccines before the transfer. Petline organises the journey, plus keeps the dog for the four months prior, for vaccinations etc.
PET FRIENDS WITH PET LINE
Pet Line can assist you with a friend for your pet.
EMERGENCIES
Pet owners can call Petline's emergency number any time, day and night. Dr. Niyazi has two veterinary technical staff assistants on hand plus continual back-up helpers, with a policy "always available for emergencies". The staff is also available for home visits if needed.
OUR SERVICES

Grooming

Dental Care

Medicine

Pet Resort

Petshop Goods

Petline Pet Foods

Pet Transfers

Pet Friends with Petline

Vaccination

Emergencies
Contact information
Tel: 03928245563
Emergancy tel: 05338700222
Facebook: Petline Veterinary Clinic
Facebook: Petline Pet hotel
Address: Söğüt sokak no:2, Kyrenia, Cyprus (see maps below).